Limited edition works
In 2010 Luca Marchetti began to give more space to his creativity and creates Limited Edition, a limited edition works certified.
He decided to print these works on canvas framed on wood; They are accompanied by a certificate with a description of (The title, the measures, the work number and circulation) that guarantees its authenticity.
In the same year he created his first themed series, The decathlon .
The registered trademark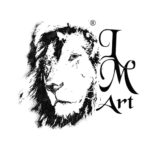 Printed works after March 2014, ie after the successful registration of the mark, printed trademark L M Art on one side of the same. Being certified works is not possible to change the size or anything else.
The exhibitions
They have been shown in various exhibitions and art fairs, including Art Innsbruck and Art Shopping at the Carrousel Du Louvre in Parigi.
To see where and when the works were on display, visit the page of Event.
Where and how to see them
A preview of the works is visible on this page, for a more complete view of data (circulation, availability and where they were exhibited) visit the complete dedicated gallery, alternatively you can download the catalog in italian in pdf.
The quotes
Works of art increase in value based on their sale, their visibility and the artist's national and international visibility.
REALIZATION OF WORKS
The realization of the works takes place in two different ways:
Some works are born as stolen photos, that is, they are not built, there is no preparation of the scene, objects or subjects, but they are shots sought after by Marchetti, left natural (see Between heaven and earth andThe freedom of flight ) or modified with filters to be able to transmit the message desired by Marchetti (see Between dream and reality andDefending the passion ).
Others start much earlier, the work is already in the mind of Marchetti, so we work to achieve it by looking for the right location, the subject that comes closest to what we imagined, possible visas, make-up artists and much more (see A life of wait and The true story of Little Red Riding Hood ). Until you get to the day of realization, which must all be perfect or almost since Marchetti does not repeat the shooting day if something did not work.