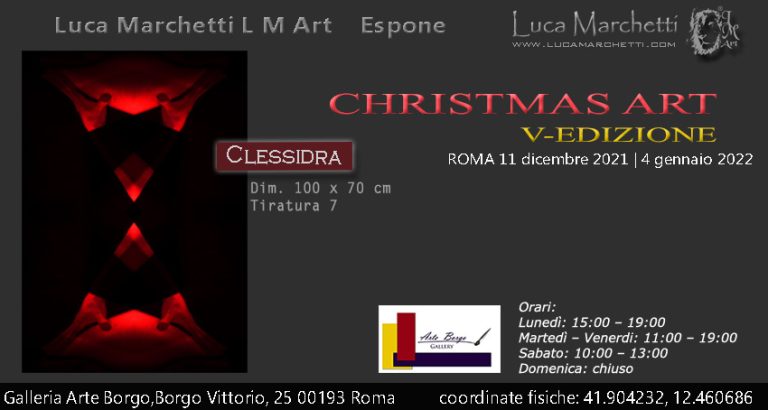 Luca Marchetti exhibits at the Christmas Art from 11 December 2021 to 4 January 2022
Luca Marchetti exhibits his work Hourglass at the Christmas Art exhibition at the Arte Borgo gallery in Rome, organized by the curator Anna Isopo.
Artworks
Hourglass: Made in 2008, it has a 100 x 70 cm format, a circulation of 7 pieces.
Iter of the work Work process: it was exhibited for the first time at the Tracce 2011 exhibition in Narni; in February 2013 at the 17th edition of the International fair of accessible contemporary art Art Innsbruck; in December 2015 at the 2nd edition of Christmas Exhibition in Bologna; in September 2017 he flies to Frankfurt for the 57th international exhibition in the Paulkirche; in November 2017 it is present at the ArtePadova international fair; in October 2018 it was exhibited at the ArteParma international fair.
The artist's thought Time has multiple facets, spiritual changes that improve in one direction and inversely worsen in physical appearance. . . but not the soul ..
Where
Arte Borgo Gallery
Borgo Vittorio, 25,
00193 Roma RM
when
Open to the public from 11 December to 04 January 2022
Hours: from Tuesday to Friday 11: 00-19: 00; Monday 15: 00-19: 00; Saturday 10:00 – 13:00; Sunday: Closed
Opening Saturday 11 December at 6pm
Communicated by the gallery
Arte Borgo Gallery presents the 5th edition of the Christmas Art exhibition curated by Anna Isopo and Giorgia Pirone from Saturday 11 December.
The exhibition also in this edition offers a selection of works that will be able to reconcile the evocative Christmas magic, in the fullness of emotions and traditions, with the sensitivity and expressive interiority of the authors.
An event that involves artists from the contemporary scene, an opportunity for dialogue between form and matter, between figuration and abstraction, fueling a sense of collective participation and giving the observer once again emotions that have been forcibly appeased by recent events.
Admission will be subject to a quota according to the regulations in force.
It is mandatory to use a mask, comply with all safety protocols and show the green pass.
Organization: Anna Isopo, Giorgia Pirone
Press releases
Arte Borgo Gallery presenta da sabato 11 dicembre alle ore 18.00, la V edizione della mostra collettiva Christmas Art curata da Anna Isopo e Giorgia Pirone, con la presentazione critica di Cinzia Folcarelli. read   © Oltre le colonne
La mostra anche in questa edizione propone una selezione di opere che riusciranno a conciliare la suggestiva magia natalizia, nella pienezza delle emozioni e tradizioni, con la sensibilità e interiorità espressiva degli autori.  read  © controluce.it
Arte Borgo Gallery presenta da sabato 11 dicembre alle ore 18.00, la V edizione della mostra collettiva Christmas Art curata da Anna Isopo e Giorgia Pirone, con la presentazione critica di Cinzia Folcarelli. La mostra anche in questa edizione propone una selezione di opere che riusciranno a conciliare la suggestiva magia natalizia, nella pienezza delle emozioni e tradizioni, con la sensibilità e interiorità espressiva degli autori. read © oggiroma.it
La collettiva CHRISTMAS ART ad Arte Borgo Gallery a Roma 11 dicembre 2021 – 4 gennaio 2022  read © hdtvone.tv
La mostra anche in questa edizione propone una selezione di opere che riusciranno a conciliare la suggestiva magia natalizia, nella pienezza delle emozioni e tradizioni, con la sensibilità e interiorità espressiva degli autori. Circa 30 le opere in mostra che rappresentano al meglio i singoli stili che caratterizzano i 19 artisti in mostra. read ©  arte.go.it
Arte Borgo Gallery presenta da sabato 11 dicembre 2021 alle ore 18.00, la V edizione della mostra collettiva Christmas Artcurata da Anna Isopo e Giorgia Pirone, con la presentazione critica di Cinzia Folcarelli. La mostra anche in questa edizione propone una selezione di opere che riusciranno a conciliare la suggestiva magia natalizia, nella pienezza delle emozioni e tradizioni, con la sensibilità e interiorità espressiva degli autori. read © itinerarinellarte.it
Arte Borgo Gallery presenta da sabato 11 mostra collettiva Christmas Art. Circa 30 le opere in mostra che rappresentano al meglio i singoli stili che caratterizzano i 19 artisti in mostra. read  © unfoldingroma.com
La collettiva Christmas Art ad arte Borgo Gallery, 11 dicembre 2021 – 4 gennaio 2022  read ©  melobox.it
Arte Borgo Gallery presenta da sabato 11 dicembre alle ore 18.00, la V edizione della mostra collettiva Christmas Art curata da Anna Isopo e Giorgia Pirone, con la presentazione critica di Cinzia Folcarelli.  read ©   comunicati-stampa.net
Arte Borgo Gallery presenta da sabato 11 dicembre alle ore 18.00, la V edizione della mostra collettiva Christmas Art curata da Anna Isopo e Giorgia Pirone, con la presentazione critica di Cinzia Folcarelli. read © wikieventi.it
Arte Borgo Gallery presenta da sabato 11 dicembre alle ore 18.00, la V edizione della mostra collettiva Christmas Art curata da Anna Isopo e Giorgia Pirone, con la presentazione critica di Cinzia Folcarelli. read © giornalelora.it