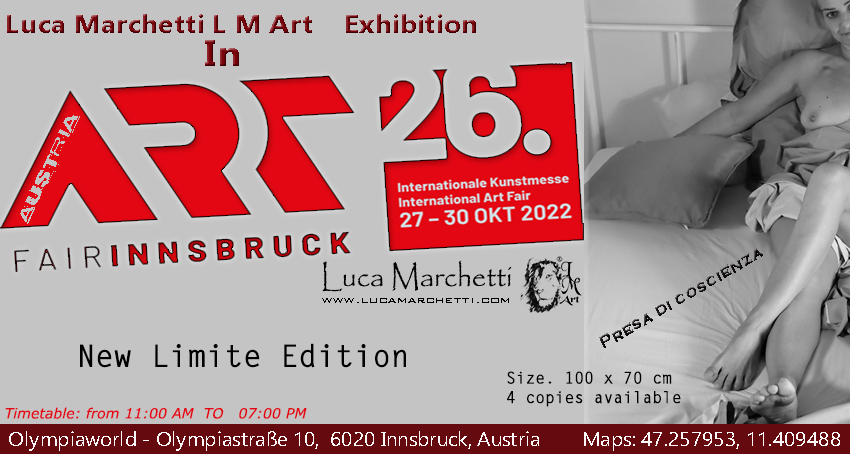 Luca Marchetti exhibits an unpublished work at the 26th Innsbruck Art Fair
At the 26th edition of the Art fair Innsbruck Luca Marchetti exhibits the  Becoming aware.
The work
Becoming aware: The work was created in July 2020, has a format of 70 x 100 cm and a edition of 4 pieces.
Iter of the work
Unpublished work exhibited for the first time at the fair.
The artist's thoughts on the work
Life cannot be taken for granted, we are not eternal and everything can end at any moment. The awareness gives more value to the present time, Here and Today.
The fair
5 days of high level art spread over 4000m². Contemporary Art, Classical Modernism, Pop Art and other 19th-21st Century Movements.
ART fair Innsbruck exhibition of international 19th-20th-21st century art: unique and / or limited editions, paintings, works on paper, sculptures, objects, installations, photographs, new media and original art projects.
Where
Olympiaworld
Olympiastraße 10,
6020 Innsbruck, Austria
When
From 27 to 30 October 2022
Thursday, Friday and Sunday from 11am to 7pm –  Saturday from 11:00 to 20:00
Wednesday 26 from 17:30 to 19:30 Open only for invited guests