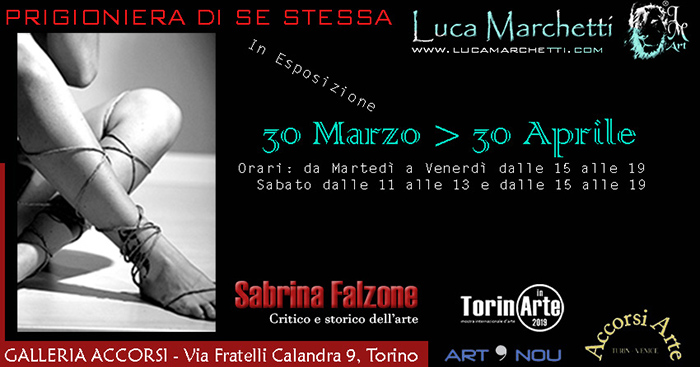 Luca Marchetti L M Art the exhibition Torino in arte
Prisoner of herself is the work of Luca Marchetti that the art critic Sabrina Falzone has chosen to exhibit at the international art exhibition Torino in Arte 2019 she organized at the AccorsiArte art gallery in Turin from 30 March to 30 April 2019.
The work
Prisoner of herself has a format cm 70×50, pieces 7.
Iter of the work
Exhibited at the exhibition Nature and Female Universe at the Diocesan Museum of Mantua in November 2018
The artist's thoughts on the work
The work was conceived to highlight the inner struggle between passion and rationality that forces us to make choices every day of this life. Not always done with the heart.
Where
Galleria AccorsiArte
Via Fratelli Calandra, 9
10123 Torino TO
When
Inauguration Saturday 30 March 2019, 06:00 pm (admission free)
Exhibition hours: Monday to Friday: 03:00 pm – 07:00 pm
Saturday: 11:00 am to 01:00 pm, and 03:00 pm – 07:00 pm