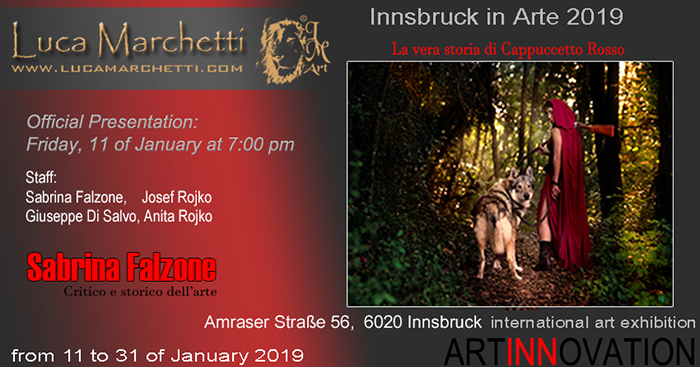 Luca Marchetti L M Art to International Exhibition of Contemporary Art Innsbruck in Arte 2019
In October 2018 Luca marchetti realizes his new limited edition work entitled The true story of Little Red Riding Hood.
The art critic Sabrina Falzone after having viewed it, decides, together with the artist, to present it to the public on the occasion of the international exhibition Innsbruck in arte 2019, exhibition organized by the critic in the ArtInnovation gallery.
On 11 January 2019 at 19:00 will be shown for the first time to the public present at the opening, the exhibition will continue until January 31.
The work
The true story of Little Red Riding Hood: has a format cm 80 x 110, a pieces of 7.
Iter of the work
Work realized in October 2018 and presented to the public on this occasion.
The artist's thoughts on the work
The truth has no versions… The truth is the truth…. The problem arises when they tell their version.

Where
ArtInnovation
Amraser Straße 56,
6020 Innsbruck, Austria
When
From 11 to 31 January 2019
Monday to Friday from 3.00pm to 6.30pm
Inauguration Friday 11 January at 19:00