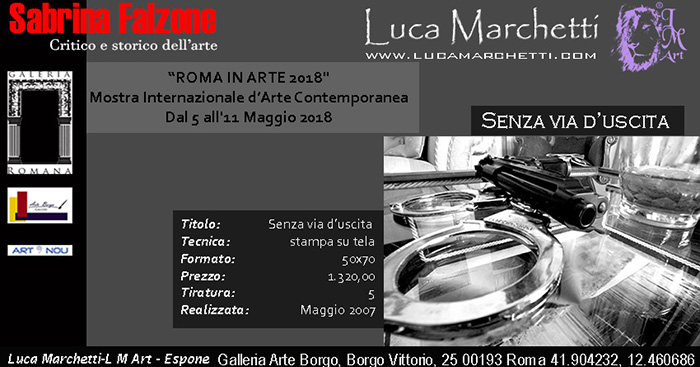 Luca Marchetti L M Art at the international exhibition Rome in Art 2018
At the Arte Borgo gallery, the art critic Sabrina Falzone with the collaboration of the Galleria Romana and the Art Nou presents the exhibition Roma in Arte 2018, Luca Marchetti will exhibit the work No way out.
The work
No way out: has a format cm 50×70, pieces 5.
Iter
The work created in 2007, won the William Shakespeare Prize and participated in the exhibition Le vie dei colori, Grottaglie July 2016.
The artist's thoughts on the work
Then, in a flash of lucidity, you get to look inside and you realize that you're at the end, you have no more ways out or excuses to cling to, there are two ways: the second is to reproach you for all the errors, voluntary or not, that brought you there, and start changing with all the necessary consequences
Where
Galleria Arte Borgo
Borgo Vittorio, 25
00193 Rome, Italy
When
From 5 to 11 May 2018
Monday 15:00 – 19:00
Tuesday to Friday 11:00 – 19:00
Saturday 10:00 to 13:00
Sunday chiuso
Vernice Saturday, May 5, 2018, 18:00