Unacknowledged lust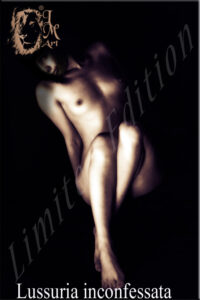 Characteristics of the work
Realized: May 2008
Size in cm: 100 x 70
Edition: 7
Quotation January 2019: 2.500,00 €
The artist's thoughts on the work
The impenetrability of being a woman: many things speak of her perceptible to anyone, from the way they walk to how they talk. But then there is a world we can not peek, its deepest desires and even more hidden feelings, so jealously guarded that only she flips like an album of photographs on the nights of New Moon.
Reviews and Awards
Dr Alessandro Costanza in the volume Progetto arte 2016 – Luca Marchetti L M Art reviews the work and compares it with a work by Caravaggio.
Progetto Arte was created in 2013 at the behest of Dr. Alessandro Costanza, critic and art historian, as a comprehensive program of reviews and critical analyzes of works of high-level art.
The volume "Progetto Arte 2016 – Luca Marchetti L M Art" can be purchased a  La Feltrinelli – Mondadori  – youcanprint libreria – Hoepli – IBS.
On 5 January 2019 the work receives the award of the 1st edition Creativity award in the world on this occasion the Director Mariarosaria Belgiovine writes the motivations:
Notevole la sua capacità di catturare il senso oltre l'immagine con efficaci chiaroscuri, mentre i diversi aspetti della realtà convergono e mutano indelebili percorsi della sensibilità visiva. Il suo idioma creativo indica accordi evocativi, costruiti con suadenti armonie e indicativi progetti simbolici.
Iter
It was exhibited in the ARAN gallery on the occasion of the international Barcelona Art Contest exhibition in July 2018; and in the Serio gallery in Naples in occasion of Naples in art in September 2018; in January 2019, on the occasion of the "Creativity in the World Award" is exhibited in Cesenatico. In 2020 it was published in the contemporary art catalog Essenza 2020, created by ArtExpò Gallery.
Characteristics of the canvas
The works are printed on precious pictorial canvas made in Italy, optimized to ensure long life and maximum color brilliance.
Resistant to sunlight.
The frame is made of a special and solid glued laminated wood, of Italian production, subjected to strict controls by experts.