Lussuria Inconfessata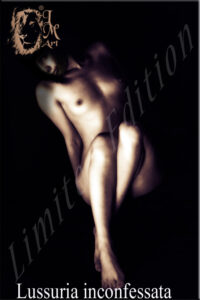 Caratteristiche dell'opera
Realizzata: Maggio 2008
Dimensioni in cm: 100 x 70
Tiratura: 7
Quotazione Gennaio 2019: 2.500,00 €
Il pensiero dell'artista
L'impenetrabilità dell'essere donna. Molte cose, percepibili a chiunque, parlano di lei, dal modo di camminare al come parla. Ma poi c'è un mondo dove non ci è dato sbirciare: i suoi più profondi desideri e ancor più nascosti sentimenti, custoditi così gelosamente che solo lei sfoglia come un album di fotografie nelle notti di Novilunio.
Recensioni e Riconoscimenti
Il Dr. Alessandro Costanza nel volume Progetto arte 2016 – Luca Marchetti L M Art recensisce l'opera e la mette a confronto con un'opera di Caravaggio.
Progetto Arte nasce nel 2013 per volere del Dr. Alessandro Costanza, critico e storico dell'arte, come programma completo di recensioni ed analisi critiche di opere d'arte di alto livello.
Il volume "Progetto Arte 2016-Luca Marchetti L M Art" è acquistabile presso La Feltrinelli – Mondadori  – youcanprint libreria – Hoepli – IBS
Il 5 Gennaio 2019 l'opera riceve il premio della 1° edizione Creativity award in the world in questa occasione la Direttrice Mariarosaria Belgiovine scrive le motivazioni:
Notevole la sua capacità di catturare il senso oltre l'immagine con efficaci chiaroscuri, mentre i diversi aspetti della realtà convergono e mutano indelebili percorsi della sensibilità visiva. Il suo idioma creativo indica accordi evocativi, costruiti con suadenti armonie e indicativi progetti simbolici.
Iter dell'opera
È stata esposta nella galleria ARAN in occasione della mostra internazionale Barcellona Art Contest a Luglio 2018; e nella galleria Serio di Napoli in occasione di Napoli in arte a Settembre 2018; a Gennaio 2019, in occasione del premio "Creativity award in the world" viene esposta a Cesenatico. Nel 2020 è stata pubblicata nel catalogo di arte contemporanea Essenza 2020, realizzato da ArtExpò Gallery.
Caratteristiche della tela
Le opere sono stampate su tela pittorica pregiata realizzata in Italia, ottimizzata per garantire una lunga durata nel tempo e la massima brillantezza dei colori. Resistente ai raggi del sole.
Il telaio è costituito da uno speciale e solido legno multistrato incollato, di produzione italiana, sottoposto a severi controlli di esperti.