The freedom of flight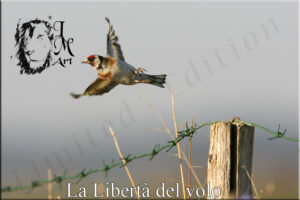 Charactaristics of the work
Realized: August 2007
Size in cm: 70 x 100
Edition: 7
Quotation January 2019: 2.800,00 €
The artist's thoughts on the work
Open your mind, go further.
Reviews and Awards
He participated in the Creative Quality Award in Professional Photography receiving a special report and the publication in the catalog dedicated to the event, 2008;
Iter
Exhibited in some small local exhibitions; in 2014 it is exhibited at the 25th Arte Padova , Exhibition of Modern and Contemporary Art Market from 14 to 17 November 2014; in 2017 it is exhibited at the international exhibition London in art held at Bharatiya Vidya Bhavan gallery from 09 to 15 September 2017; immediately after the international fair Art Shopping Cote d'Azur in Cannes from 1 to 3 December 2017
Characteristics of the canvas
The works are printed on precious pictorial canvas made in Italy, optimized to ensure long life and maximum color brilliance. Resistant to sunlight.
The frame is made of a special and solid glued laminated wood, of Italian production, subjected to strict controls by experts.